The Arrow #112
Hello everyone.
Greetings from Montecito. Sorry for the lateness of the hour. The day went a bit pear shaped and you have my most groveling (and sincere) apologies for the delay!
The Arrow is a reader-supported publication. To receive new posts and support my work, consider becoming a free or paid subscriber.
Well, I'm having my typical weather luck. Flew out of Dallas a few days ago. It was cold and windy. It had rained the entire week before. Not just rained, but poured. Couldn't wait to set foot in sunny SoCal for a few weeks. But arrive here and it's also cold and windy. With rain predicted for the foreseeable future. But in Dallas, it's going to be cool but nice.
On the way between Dallas and Montecito, MD and I stopped off in Phoenix for the first official Broken Science Initiative meeting. The group was started by Greg Glassman, who was the founder of CrossFit. Met up with a bunch of old friends at the get together at Greg's house the night before and the night after. Fun to catch up finally after the world is moving beyond all this Covid nonsense.
Here are some photos from the before and after fun. I'll post a few photos of slides from the meeting with my commentary after. Before long, the videos from the meeting will, I'm sure, be posted on the Broken Science site.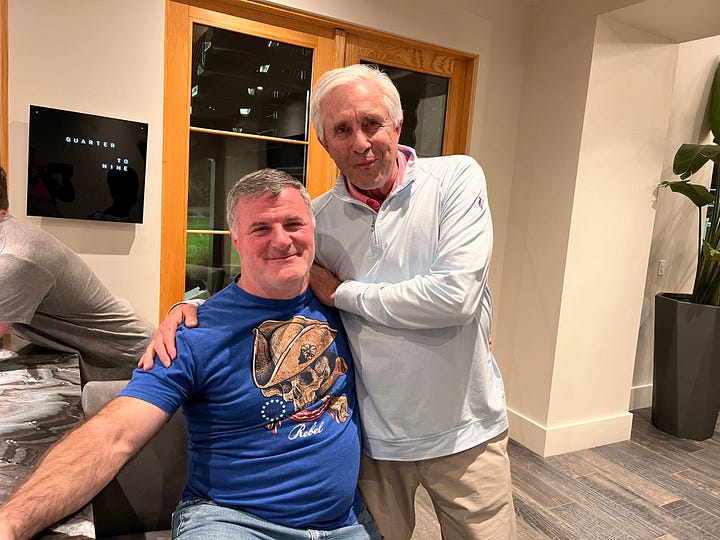 Top left photo is of me with Dale Saran, former Marine helicopter pilot and current attorney for many of the military folks who were run off for refusing the "safe and effective" Covid mRNA vaccines. Dale successfully defended a number of military folks who refused the anthrax vaccine back during the Gulf War. He wrote a great book about it, which I highly recommend. He details how sloppy the entire vaccine approval process along with the slipshod oversight of the manufacturing process. Apparently, many people believe the Gulf War Syndrome is a consequence of the widespread anthrax vaccine mandated for the military during those times.
Upper right is Malcolm Kendrick and me. We had a great time catching up.
Lower left is a new friend Miranda Alcaraz, whom I was introduced to by a now-retired anesthesiologist friend of mine from Tennessee, Allen Buck, also in the photo. Miranda and her husband run the phenomenally successful StreetParking online fitness program many of you have probably seen.
Lower right is me with Rodney Mullen. I met Rodney through Greg three or four years ago. Rodney is helping me learn to hack. Despite his best efforts, I am a slow learner. If you've never heard of Rodney Mullen, take a look at the video below. Rodney is one of the nicest and most thoughtful people I've ever met. A true gem of a guy.
You can catch one of his Ted talks here:
Also at the meeting and at Greg's house was Steve Kirsch. I just got the chance to talk with him a bit. Wish I could have spent more time talking him, but I didn't see him until the get together was breaking up. I'm sure he'll be back for others.
The formal part of the weekend was terrific. Probably 200-300 people at the Biltmore in Scottsdale for the first meeting.
As I wrote above, as soon as all the talks are posted, I'll link to them.
Emily Kaplan and Greg, founders of the Broken Science Initiative, kicked off the program with two great talks. The thrust of the presentations was the idea that science as we know it today, as published in the scientific journals, is totally screwed up.
Real science works this way:
You make a prediction based on an hypothesis. You might say, my hypothesis is that X causes Y.

You design an experiment to test it.

You run the experiment, which will involve doing X over and over and tabulating how much or often Y happens.

You tabulate the data you collect and analyze it.

If a statistical analysis shows that when you do X, Y happens often enough, then you propose that X causes Y.

Then you repeat and repeat and repeat.

And have other labs repeat.

If everyone gets the same result, even with slight experimental variations, you can cautiously posit that X causes Y. You ultimately come to the point at which you can reasonably predict that X causes Y.
And that's what real science is all about: predictability.
But way too much science is about getting small P values. In a kind of perversion of the work of some famous statisticians, the P value was developed as a means to determine statistical significance, which is a term that is indefinable other than to say it is what a small P value means.
Who knows what statistical significance really is?
It's an artificial construct used primarily to pass the test to get published in scientific journals. If your P value is small enough (0.05 or smaller), then you qualify.
The real test of science is: is it predictable? Not does it have a low P value? Or as William Briggs calls it a wee P. What you're constantly looking for in science is causality. If you can determine that X causes Y, then you have determined causality. If you find that Y sometimes occurs after X, that doesn't mean X causes Y. It just means they're associated. Or correlated. Not that X causes Y.
But researchers do studies and publish them showing that when you find a lot of X, you also find a lot of Y. Which doesn't mean X causes Y, but if the analysis has a very wee P, then causality is often postulated. Everyone wants to prove causality.
In scientific papers, authors discuss the meaning of their work and, in doing so, often caution against interpreting their work as implying causality while at the same time implying causality. Briggs in one of his posts described this as a Schrödinger's inference, which, if you understand Schrödinger's cat, you'll understand. (Even more hilarious is that this paper—really, a letter to the editor—is about the cesspool of shitty studies on Covid-19 and the vaccines.)
Brigg's spoke at the conference, and here is one of his slides that you'll probably appreciate:
When scientists derive hypotheses, they typically create models for testing. In their model, they say X causes Y, then they test to see if it really does cause Y.
Many scientists get so involved in the creating of their model—see Kevin Hall, for example, and his model of CICO—that they lose sight of whether or not the model actually is predictive. When it doesn't predict, they continue to refine, figuring the model just needs a little more tweaking. It never occurs to them that their model might be wrong.
As Briggs has written over and over, "Models show what those who design them want them to show."
But the designers of these models will sit you down and show you how they included every possible factor in their model (again, see Kevin Hall), and have designed for extreme accuracy. If you ask, What about this or that, they explain how they have already taken this or that into account. Their model is extremely accurate, they tell you.
Here's what Briggs had to say about that in his talk:
What is the use then of such models? Pretty much nothing. They are useless.
Reminds me of the first spreadsheet I ever put together. It was before the days of Excel. Before even computers were in widespread use. In those days, they weren't called spreadsheets, they were called pro formas.
MD and I got the idea to open a type of clinic that is now called Urgent Care, but really didn't exist as a category of clinic back then. We had no money to fund such a venture ourselves, so we needed to borrow it from a bank. In order to do so, I had to come up with a pro forma.
I checked with a few doctor friends and got a pretty accurate idea of what it costs in terms of supplies to run such a clinic. I also looked up how much it would cost to come up with all the payroll expenses for nurses, receptionists, etc. I had a couple of places in mind to lease, so I had an accurate lease amount. I figured all the utilities, and everything else I could think of. I laid it all out in a month by month fashion with the fixed expenses the same each month and the supply expenses as a variable as a function of number of patients we saw. I started out with what I thought was a reasonable number of patients and grew it slowly.
When I looked it all over, I figured no man could ever create a more accurate pro forma than the one I had just labored over. And I mean labored over. I had done it all by hand. Multiplied every frigging figure out with a hand calculator and double checked them all.
I took it to the bank, and, as it turned out, the banker had been one of my patients in the emergency room a few months before, and thankfully, he had had a good experience.
He thought it looked reasonable and made the loan.
I was on the money in terms of expenses, which is what I spent most of my time perfecting. But I was off, way, way off, in terms of how many patients we would see. Urgent Care centers were totally unknown then. People had no idea what they were. Ours was called Medi-Stat Emergency Clinic. Having spent so much time working in emergency rooms, I knew a huge number of patients went to ERs because when they got sick they couldn't get appointments with their own doctor until weeks later. So they went to the ER as a last resort.
We figured the public would do the same to our little free-standing emergency center. But such was not the case. I could never figure out why people with a cut body part, or a urinary infection, or a bad headache—common causes for visits to ERs—would spend hours waiting in an ER, get charged thrice what we charged, and have to deal with the whole hospital situation instead of coming to us. But they didn't. And it almost bankrupted us.
We hung in there and made it work, but it wasn't without many sleepless nights.
The point of all this is, that just like Briggs's slide above, our model explained well, but predicted poorly. All my work was extremely accurate except for my estimate of patient growth. What we were looking for in my model was a prediction as to how long it was going to take us to start cash flowing so we could quit going in the hole. The model, though extremely accurate in every other respect, missed it badly in terms of patient growth.
After Briggs spoke at the meeting, John Franklin, who was a student of David Stove's (whom I have written about previously), spoke of his time with Stove and some of Stove's philosophy. He also made a great point about science. It is't a deductive process. It's an inductive process. We observe, then try to predict based on our observations.
Here is the situation written as a famous syllogism"
All men are mortal
Socrates is a man
Therefore Socrates is mortal
But what we end up with in real science most of the time is the following
99 percent of men are mortal
Socrates is a man
Therefore odds are high that Socrates is mortal
That's about the best we're going to get.
Tom Seyfried gave a great talk as did Malcom Kendrick. I got to spend a fair amount of time with both of them during the befores and afters, for which I'm thankful.
Tom's talk was about how "science" is ignoring the metabolic basis of cancer despite the incredible results his studies have been demonstrating. There is no real money to be made in treating cancer patients with diet and supplements. But there is huge money to be made in chemotherapeutic drugs, which, for the most part, don't work.
MD's sister was diagnosed with lung cancer in March of 2012. MD essentially moved to Little Rock to care for her, not as her physician but as her sister. I went back and forth. Her sister chose to do a 'pull out the stops' traditional regimen and went through radiation and chemotherapy from March until mid May and was told she was on the mend. She died on June 3. MD was the executor of her estate. In going through the records, MD found the expenses for hospital costs, radiation and chemotherapy for about two and a half months of treatment were ~$400,000.
Cancer treatment by traditional means is a big money game.
Malcolm Kendrick, whose talk was hilarious as always, showed how outright fraudulent were the studies on a couple of the newer, very expensive, LDL-lowering drugs. Since statins have all pretty much gone generic, Big Pharma has to continue to exploit the LDL fear they have thrown over us all like a blanket.
Just a couple of days ago, I got an email from an old friend who used to be quite hefty. I badgered him about diet, but it all fell on deaf ears. Then, out of the blue, he decided to go full low-carb. He started dropping weight, and as happens with many folks on low-carb diets, he spontaneously started exercising. This all happened without my knowledge, and when I saw him a year or so later, I was stunned. He was almost unrecognizable.
He is still thin, still exercising, still on LCHF. But he went to his doc, who found my friend's total cholesterol to be 301, up from 296 almost three years ago. Of course, the doctor panicked. I'm sure just seeing it over 300 was a fright for him. He, of course, began to badger my friend about statins fairly vigorously. Scared the crap out of him. So, he went home and emailed all this to me.
When I looked at his lab report, I couldn't believe it. His total cholesterol was indeed 301 mg/dl. But his frigging triglycerides were 78. And even more stunning, his HDL was 84! For a man over the age of 65, this is astonishing. I would have thought it a lab error, except on his last lab it was 99!
Since total cholesterol is made up of all the different fractions of cholesterol, a big part of why his total is so high, is that HDL, the good cholesterol, is so high.
If you're going to look at lipids, probably the best estimate of risk—for a number of reasons—is the triglyceride figure divided by HDL. If it's under 3, your in pretty good shape. His was under 1 (78/84)! Which is terrific.
It beggars belief that anyone would hound him to go on a drug.
But he was hounded. Here's what I wrote back to him explaining why?
Don't take them. I can send you any number of papers, but your doctor will be too stupid to understand them. You've got to understand how the system works. It is totally corrupt. The drug companies pay many millions of dollars to big name docs, who have all the academic merit badges. These same big name docs always end up getting on the committees that write the guidelines for various specialties. The guidelines they write are the definition of Standard of Care. All the non big named docs, i.e., your local doc, try to follow the Standard of Care as outlined by his/her specialty. If the doc follows these SOC guidelines, he/she won't get sued if the patient turns to shit as a consequence. "Your Honor, I was simply following the current Standard of Care guidelines as promulgated by the American Association of Cardiologists [or whatever group it is]." Statins are recommended for elevated LDL in virtually all of the SOC protocols. If docs give them, and the patient has a heart attack or a bad reaction to the drugs (not uncommon), the doc is protected because of the SOC. If he/she does NOT recommend the drugs and something goes bad, then he/she has no protection because the SOC wasn't followed. That's why they push these drugs so hard.

Sadly, that's how it works. Statins have been the bestselling drugs in history. They've made more money for the pharmaceutical industry than any other drug ever made. Now they've gone generic, so Big Pharma isn't making nearly as much. But they've got new cholesterol-lowering drugs that cost anywhere from $8,000 to $10,000 per year. A number of people do not get their LDL levels low enough (to an unnatural state, really) on statins, so now they can go to these other vastly more expensive injectable drugs that will finish the job.

The reality is that the evidence shows that the older you get a higher cholesterol level is associated with greater longevity. The only real studies on statins—the randomized, controlled trials—showed that only a small group of people got any improvement in all-cause mortality while taking the drug. That group was men under the age of 65 who had actually had a heart attack. Not men under 65 who had so-called risk factors for heart disease, but those who had actually had a heart attack. If you're not in that group—and you're not—statins are worthless. Based on the evidence, they should never be given to women of any age and never to men who aren't in this under 65 age group who had had a heart attack. Even in that group, their improvement is so modest that public health officials question their use in terms of how much money has to be spent to save one person.

I went back and reread what I wrote above. When I said Big Pharma pays big named docs millions of dollars, it isn't that blatant. They don't offer it as an out-and-out bribe. That would be unlawful. What they do is fund their labs (most big named docs are academics) and pay them to fly to glamorous spots around the world to give talks, for which Big Pharma pays generously. As Upton Sinclair commented long ago "It is difficult to get a man to understand something, when his salary depends on his not understanding it." These big named docs don't want to give up the gravy train, so they don't look too carefully at the scientific literature. And if they do look at it, the literature is full of shitty epidemiological papers that appear to show a benefit to statins, but are really worthless. Worthless because epidemiological studies are worthless except for generating hypotheses that need to be tested by randomized, controlled studies. But re statins, these have already been done. Multiple times. And have shown what I described above.
This is why science needs to be fixed.
Three Free Books For a Few Days
I just heard vie Robert Malone that Kindle is providing for free the following three books.
The Real Anthony Fauci by Robert Kennedy, Jr.
Lies My Gov't Told Me by Robert Malone, M.D.
Cause Unknown: The Epidemic of Sudden Deaths by Edward Dowd
These are all absolutely free on Kindle through Feb 27, so act now. Since they're free, going through my links above won't give me a penny, so don't think you'll be subsidizing my grandiose lifestyle by grabbing these books.
Hurry if you want these. Sometimes the publisher just allows a certain number to be given away. Once they're gone, the deal is over.
Unfortunately (for me), I already purchased the first two at full price, but I was able to download the Dowd book for free.
Speaking of which, I've been reading a lot about excess deaths, which seem to be on the rise. Of course, all the anti-Covid-vaccine folks want you to believe these are all a result of side effects of the vaccine. I heard a pretty compelling argument that they aren't. So I don't want to comment until I've done a much deeper dive. I hate to come back later and say, Sorry, I screwed up on that one. My confirmation bias is as strong as, or stronger than, everyone else's. But my fear of having to make a groveling apology is even stronger, so I want to wait until I have more data before commenting on excess deaths.
I'm eager to read Dowd's book now that I have copy. But I pretty much know what it's going to say. I'll let you know what I think once I read it.
Book Recommendation
I've had multiple people email me and comment that they enjoy book reviews and want more. So, I'm going to post one. Although I've read a bunch of books lately, I haven't read one worthy of review. As I've written before, I don't like to write bad reviews of books. Having been an author or co-author of ten books published by mainstream publishers, I know how much work goes into the process.
Writing a book is not a walk in the park. It takes a huge amount of time and effort, so I hate to write a bad review of a book simply because I know how much of an author's life goes into the publication of a book. And I hate to belittle that time and effort with a bad review, so I basically review only books I really love. If I hate a book, I simply don't review it.
Lately, although I've read a lot, I haven't read anything that has been worthy of review.
A couple of weeks ago, I got an email informing me that Steven Austad was giving an online course for $60. In the promo, it said he was going to be talking about his new book. I had no idea he had a new one. His first book, Why We Age is, in my opinion, the best book about aging written so far. So, I was fired up that he had a new one.
I haven't been disappointed…so far. I've read only about a third of it, but what I've read is outstanding. The book is Methuselah's Zoo, and it's about what we've learned from animals about longevity. Like his first book, this one is well written and is filled with fascinating information. It's incredible how long lived some animals are. And it's even more incredible how improbable are some of the feats these animals perform. These feats have nothing to do with aging, but are beyond remarkable.
Have you ever heard of a bar-headed goose? Well, neither had I. But, as Austad explains, this bird is something else.
The bar-headed goose, for instance—without training, without acclimatization, without supplemental oxygen—takes off from sea level, climbs to nine thousand meters (thirty thousand feet) (where the temperature can be dozens of degrees below zero), and flies over the Himalayas (the world's highest mountain range) in less than twenty-four hours. A wading bird called the bar-tailed godwit flies nonstop for nine straight days and nights without refueling (that is, without alighting to eat or drink) on a eleven-thousand-kilometer (seven-thousand-mile) migration from Alaska to New Zealand. That, by the way, is within shouting distance of the world's longest nonstop commercial airline flight. A common swift has stayed aloft continuously for more than ten months. A racing pigeon can fly 160 kilometers (a hundred miles) per hour horizontally, and a peregrine falcon dives on its prey at up to 320 kilometers (two hundred miles) per hour.
Same with the bar-tailed godwit… Who knew?
This book has so many descriptions of phenomenal animal feats that I'm starting to piss MD off by reading them aloud to her. Listening to me read them means she has to pull out her earphones and put Sam Heughan on pause for a minute, which is always an annoyance for her. [The bride disagrees. She claims she's often hard at work listening to music while writing. But…]
I can recommend this book only on the basis of the first third of it. He hasn't gotten to how these longevity and survival traits apply to humans, but I'm assuming he will. Even if he just continues with a recounting of the extraordinary exploits of animals I've never heard of, it will be worth the read.
One of the troubling things I read that I already knew, but needed reminding of was how, contrary to hibernating animals, which maintain their lean body mass during months of sleep, older humans lose significant strength and muscle mass with bed rest.
Older people can lose as much as 16 percent of their lower body strength after only ten days of bed rest. It takes younger people a month or more to lose the same percent of strength.
Which brings me to my next topic…
Sarcopenia, Weight loss, and Protein
A few days ago, Peter Attia posted on lean body mass loss from taking GLP-1 receptor agonists. These are Ozempic and Wegovy, which I've discussed, along with a newer one called Mounjaro that I haven't seen a lot written about, but which seems to be even more effective.
Peter mentioned a couple of studies showing significant lean body mass loss with semaglutide, the generic for Ozempic and Wegovy. In one of these studies, the lean body mass loss was 37 percent, while in the other it was 40 percent. I double checked these papers, and those figures are indeed correct. In the first paper, the authors put the figures for lean body mass loss in a separate appendix, that most people won't go to the trouble to look up. In the second paper, the difference was illustrated graphically.
In this second paper, the authors cleverly rejiggered the statistics to show that body mass actually improved despite its representing 40 percent of the weight lost. They did this by comparing the lean body mass component of the new lower weight to the lean body mass component of the original more obese body weight. According to their figures, subjects gained lean mass as a percentage of overall weight as compared to where they started.
Hmmm.
Let's talk a bit about lean body mass and what happens with weight loss.
Depending upon how you lose weight, the loss of lean body mass differs. If you lose a lot of weight, almost irrespective of how you lose it, you will lose some lean body mass. Why? Because you don't need it. You don't need as much muscle at your new, lighter weight as you did to tote the extra 50 pounds you were carrying before you lost it.
I have a great study that I cannot lay my hands on (which is part of why I'm late with The Arrow today; I spent way more time than I should have study hunting) that shows how this natural loss of lean body mass happens.
Researchers put obese subjects in vests that they were to wear the entire time they were awake. The vests were built with multiple little pockets designed to hold small weights. As the subjects lost weight over the course of the study, the researchers would stick weights into these little pockets so that no matter how much body weight these subjects lost, they were still carrying around their starting weight. At the end of the study, the researchers determined the lean body mass of the subjects and found that they had lost no lean body mass despite having lost a considerable amount of weight.
This study certainly indicates that much of the lean body mass lost during dietary-induced weight loss comes about simply because the dieter no longer needs the extra lean mass, because he/she has less weight to schlep around 24 hours per day.
Makes perfect sense.
But, and this is a big but, once lean body mass is gone, it is hard to get back, especially as one ages.
So, if like most dieters, you ultimately regain your lost weight, you won't regain a lot of your lean mass. If you reach your previous weight—the weight you were carrying when you began your diet—you will have a much larger percentage of fat than you did before. And you will be a little bigger size-wise, because fat is lighter. So if you end up regaining all your weight back, more will be fat, and you will be bigger than you were before you started.
When people yo-yo diet, they end up with less and less lean mass and more and more fat with every cycle. Since excess fat is harmful and muscle is healthful, that is a bad, bad trade.
It's made even worse since a loss of muscle mass is a part of the aging process. We need to fight like crazy to maintain what we have as we age—we don't want to lose any muscle unnecessarily.
After age 65 many of the bad things that can happen to us are as a result of sarcopenia, or loss of muscle mass, and the consequent immobility. We can fall, we can break a bone, we can get sick and bedridden. As Austad mentioned in his book, and I quoted above, it takes only ten days of bed rest to cost you 16 percent of your lower body strength, which comes about due to loss of lean mass.
As you get older, you have to fight hard for every ounce of lean body mass you have. You don't want to lose any.
One of the ways you can maintain your lean body mass is by eating good quality protein, which means animal protein. You've got to get plenty of protein to ensure you get enough leucine, which is an essential amino acid that bypasses the liver metabolically and goes to the muscle. It triggers mTOR, the system that stimulates muscle growth. You need between two and three grams of leucine to trigger mTOR and get it going. It requires at least 30 grams of animal protein to do this. And you can't fool it by taking leucine capsules.
This can become problematic, because as people age, they tend not to eat as much. They tend to eat the same foods, just less of them. And if they're not careful, they can easily get shorted on protein. What's even worse is that protein requirements go up with age. Older people can't absorb protein as well and don't synthesize protein as well. So, as people get older, they have greater requirements for protein, pound for pound, than they did when they were younger. And at the same time they're not as hungry and don't eat as much.
It's the perfect set up for muscle loss. And as I mentioned over and over, once this muscle mass goes away, it's extremely difficult to get back. It requires a lot of effort.
When people get older, gain weight, and want to lose it, they are really prone to lean body mass loss. As we saw above, lean body mass loss happens when you lose weight intentionally. If you're trying to lose weight at an advanced age, you've really got to work hard to maintain all the lean body mass you can. Because, more than likely, when it's gone, it's gone for good.
So, how do we maintain it if we want to lose weight. Or if we just want to maintain, or even increase, lean body mass?
First and foremost, eat plenty of protein a couple of times per day. Preferably in the morning and again at night. It's not as important during the midday meal.
A roasted chicken thigh will give you about 30 gm of protein, of which close to 3 gm will be leucine. That's enough to kick off mTOR and keep it working for 4-6 hours. Don't think you can cheat the system by taking in smaller amounts of protein all day long or even larger amounts. You want mTOR to be pulsatile, not continuous. So, big doses. If you don't feel like a chicken thigh for breakfast — and you may not — you can add whey in a shake. It's a good source of leucine.
What you don't want to do is get your protein from plants. Because of the lesser quality of plant protein, you need over double the grams to get the same effective amount, and you'll probably still be near deficient in lysine, one of the essential amino acids. It's okay to eat plant protein, just don't try to eat it to meet your leucine requirement.
And add resistant exercise to your regimen. That also triggers the mTOR system.
Stay active. Walk the stairs. Walk every chance you get. Get active in a sport. These won't build lean body mass like resistance exercise, but it will help prevent the loss.
I'm going to be hitting this idea hard over time, because it is so important. Just try to view everything through the lens of maintaining lean body mass. Take care of your muscle, so it will take care of you.
Video of the Week
Someone sent me this. Looks like Bill Maher is getting red pilled by the day. But, he's definitely a smart guy, so it makes sense…
That's about it. Sorry for the lateness if you've been clicking your email looking for this edition. I had a bunch of stuff rain down on me today, and I spent waaaay too much time looking for that study.
Keep in good cheer, and I'll see you next Thursday.
Before you go, take a look at what our sponsors have to offer. Dry Farm Wines, HLTH Code, and Precision Health Reports.